Currently a mess, likely to stay that way, but it might get more interesting.


If you've ever heard of the Howard Measurement System, or the Luncheon Group, some of the e-mail that started the Howard Units may be of interest.

Also, I'm glad to say my computer runs Linux which I keep on for not so-long periods of time.
---
Well, to let you know a little about myself, I have made up a resume. Yeah, I know, boring, but it should have links to some cool stuff. There was also some information about me from my school.

Also available is my mostly unused Yahoo calendar, which one day I might actually synchronize with my Zaurus Qtopia personal calendar, but I doubt it. If anyone has info on syncing the above under Linux, I'd appreciate it.

If you catch any typos, bad links or have any suggestions, please e-mail me.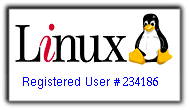 --
-----

This has been a message from the National Howard Measurement System site 1.
The current readings here, as always, are 1 howard.
_____________________   . .  __________________            /o o\  / o __ o \
I  Current Address:  \   >   \                 \(o_o)(^o^) \ U /  \  `--'  /
| ------------------  \  - oo \  Therefore,     ~~~~~~~~T~~~~~~~~~~~~~~~~~~|
| -----------------    ~\  /\  )go and make disciples   | Multilingualism  |
| ------------------ USA \    /  of all nations, ...   / est omoshiroi_____/
| Phone: (---)--------    \  /       -Jesus Christ    /------{ (o_o) \:) ;^)
|   FAX: (---)--------     \/        `-Matthew 28:19 / Hello /  :        :-)
| E-mail: hrabbey@---.---   \                       / & bye /  -+-    :>  :P
`~~~~~~~~~~~~~~~~~~~~~~~~~~~~~~~~~~~~~~~~~~~~~~~~~~~~~~~~~~'    |   (-_-)